Product Warranty Information
Each product in this store includes a detailed warranty section. To view the warranty terms and conditions for a specific product please click on the "Warranty" tab as shown in the example below.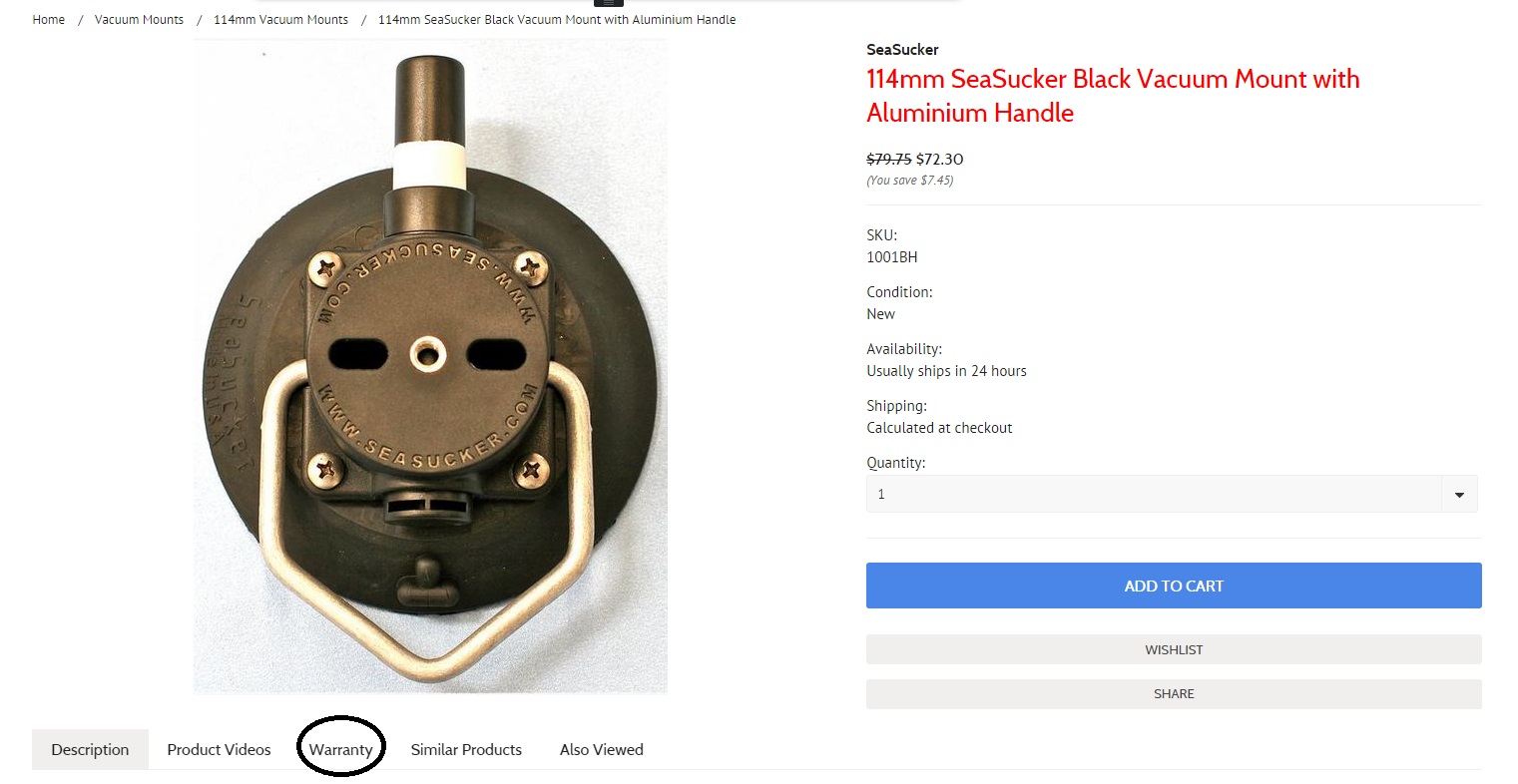 Unless otherwise specified in the product warranty section our product warranty terms and conditions are as follows:
We offer a 1 year, non-transferable warranty covering defects in materials and workmanship. The warranty covers the defective product only and can be returned within 1 year of the date of original purchase to SeaSucker Down Under for replacement or repair. This shall constitute the sole remedy of the purchaser and the sole liability of SeaSucker Down Under Pty Ltd to the extent permitted by law. In no event shall SeaSucker Down Under Pty Ltd be liable for special or consequential damages.
A sales receipt must accompany warranty claims. If your product fails due to a manufacturing or workmanship defect our first option will be to repair the item, free of charge. If the product is not repairable, or if the cost of repairing the item exceeds the cost of a new one, we will replace it. If the item has failed due to a manufacturing defect, we will pay the return shipping charges.
Update - 20th September 2016
As of the 20th September 2016 SeaSucker Down Under now offers a 2 year warranty on all SeaSucker Bike Racks and Accessories. We chose to do this as a way of adding value to every SeaSucker Bike Rack and Accessory sold through us. Please be aware that the standard SeaSucker warranty remains at 12 months. The warranty extension is provided by SeaSucker Down Under for the sole benefit of its customers.
Please Note: Our warranty is only applicable on products bought directly through us or through our Approved Re-sellers. There are several companies on the internet masquerading as having an Australian presence. These companies are not part of our Approved Re-sellers. If a product is purchased from them you are required to contact them for any warranty related issues. Alternatively you can contact us, unfortunately the cost of the repair is chargeable